Event Location:
Christ Community Church
17011
Camp Hill
,
PA
United States
Pennsylvania US
Map to True Victory Ministries:
Overflow of the Spirit Event - Harrisburg, PA
Can we learn how to release the supernatural naturally? What do spiritual gifts look like in our everyday lives?
Is it possible to position ourselves to flow with Holy Spirit's river within all the time, wherever we are?
The answer is a resounding YES!
"Charity is so good at making the supernatural practical and sharing deep things in a way that's really accessible to everyone." – Shawn Bolz
Event Details
This empowering live workshop will be held on Sunday, April 24, 2022. It is being hosted by Christ Community Church and there is no cost to attend. Charity will be ministering in the morning worship service at 10:00am as well as Sunday evening from 6:00pm – 8:00pm. The church is located in Camp Hill, PA which is right outside of Harrisburg.
Every believer can flow in every gift of the Spirit in their everyday life
Finally! A clear, simple understanding of how to release the nine-fold manifestation of the Holy Spirit everywhere you go and with everyone you touch. It is not hard! It can't be since these are not things you have to work for, but spiritual gifts.
Most Spirit-filled Christians want to operate in the nine-fold manifestation of the Spirit as recorded in 1 Corinthians 12:7-11. However, there is little clear teaching as to how to actually do this. There are ministers who naturally flow in them and they tell their stories, but there are few practical, step-by-step teachings explaining how you can become skilled in easily operating in all nine manifestation of the Spirit.
You can, and it is easier than you ever dreamed possible! As a matter of fact, you probably ARE operating in many of them, but have simply not identified them yet.
This is a "how-to" training. It is 100% biblical, practical and lineal, carefully leading the Christian into an understanding of how to move comfortably and continuously in releasing the Spirit's manifestation in any situation they find themselves in.
The lifestyle of honoring the flow of the Holy Spirit Who lives within (Jn. 7:37-39) is much easier than the lifestyle of wrinkling my brow and trying to figure everything out. Christian spirituality is simple. We live like children (Matt. 18:3). We live in playfulness, faith, intuition and gratitude toward the God Who is with us, in us, and providing us with all things (Rom. 8:32).
Learn how to position yourself to connect with the Holy Spirit's river within continually, overflowing with His gifts in every area of your life!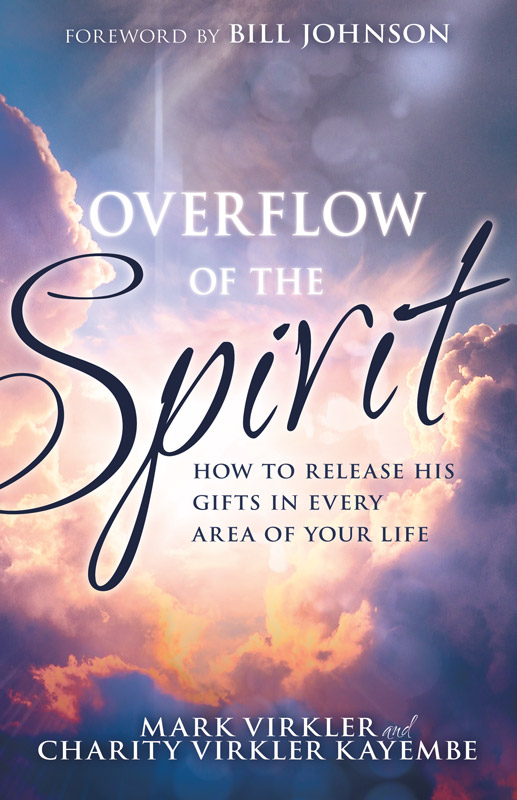 Can't make it in person?
Dive into the Overflow of the Spirit Master Package and equip yourself to live and walk by the Spirit today!