Scripture tells us that we overcome by the blood of the Lamb and the word of our testimony (Rev. 12:11). If you're like me, you have always considered your testimony to be the story of your "conversion" and when you "prayed the salvation prayer." However, through a prophetic dream God showed me His perspective of our testimony, gave me a more complete understanding of what it actually is, and revealed one of the incredible ways it empowers us to conquer the accuser in our lives.
In the Garden of Eden the enemy deceived Eve by accusing God. He tricked her into questioning Father's goodness, believing He was withholding something good from her. Eve should have silenced the accusations with the word of her testimony, testifying who she knew God to be, that He is always faithful and true.
The dream revelation also ties in with a passage from the Song of Moses. There God instructed the Israelites to teach this recounting of God's faithfulness to their children "in order that this song may be a witness for Me" (Deut. 31:19). A character witness in a courtroom confirms someone's good standing when they are accused, testifying to the honesty and integrity they have seen on display in his life. That's what Eve should have testified to when the serpent accused God of wrongdoing.
One of the gifts of dream work is the opportunity to experience biblical truth. Scriptures that we can quote in our minds all at once become living and active as we experience them for ourselves in our hearts at night. I recently had the following dream and decoded it with the daisy-chain DAESI Dream Work Method©. It made a verse I've known for years come alive in a deeper way as Holy Spirit wrote His words personally on my heart. I trust the revelation and what God spoke to me will bless you as well.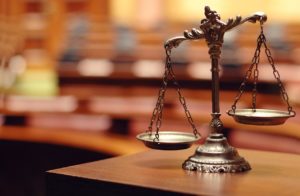 God on Trial
DREAM: My brother Josh has three kids, and in my dream I was accused of abusing them. Though it was completely untrue, I was instantly judged and found guilty, sentenced to be executed that same day. I drank the poison fully expecting to die, but didn't. The toxin didn't harm me at all, so I was allowed to live until a second trial would be done.
The idea was that if Josh's kids – who totally adored and loved me as much in the dream as they do in waking life – if they could get their testimony out there and let everyone know how well I treat them and how much I love them, then that could turn the tide of accusation. If they would share their testimonies far and wide, the tide of public opinion would be swayed and the jury would judge me rightly, as innocent.
At this point there was nothing more I could do. Now it was up to Josh's kids; everything hinged on the word of their testimony.
ACTION: In the dream I was being wrongly accused and condemned.
EMOTION: The key feeling of the dream was a solemn weightiness as I waited for their testimony.
SETTING: In waking life I had read Ivey Ministries' Word of the Day Scripture which was Revelation 12:11 – They overcame by the blood of the lamb and the word of their testimony. Next week is Easter, a celebration of death and resurrection.
INTERPRETATION: As I worked out an understanding of the symbols in the dream, some things immediately stood out. For example, my brother's name is Joshua. Joshua is the English transliteration of Yeshua. We know Yeshua is Jesus, and Jesus is God. So in the dream "Josh's kids" are symbolically representing "God's kids." God's kids are believers everywhere, all of Father's sons and daughters.
On our calendar, Easter is coming next week. But first, Good Friday. The seasons of life, death, and resurrection. Jesus' trial was rushed; He was unjustly accused and immediately sentenced to death, but lives. This is what I experienced in my dream too: I was unjustly accused and immediately sentenced to death, yet lived.
God was teaching me about the power of our words and testimony and how that defeats the accuser, as that is the context of this passage, specifically how to conquer the accuser of the brethren (Rev. 12:10). We know Jesus already did His part; the blood of the Lamb was shed before the foundation of the world. Now it's up to us to play our part in the unfolding miracle through our testimony.
My definition of testimony as exemplified through the dream was expanded. It becomes so much fuller and richer when we understand it involves sharing how much God demonstrates His love towards us every day, in our everyday lives. It's about telling others how well He treats us and what He's doing for us. That's what I wanted Josh's kids to testify to in the dream; what I needed Josh's kids to testify to.
That was my initial understanding upon awakening, but I didn't want to miss any of the revelation Heaven was downloading, so I listened as Holy Spirit further unpacked the meaning of my "God on Trial" dream…
Stay tuned for Part II on Monday!
Going Deeper
If you want to receive God's revelation to you while you sleep, I'm happy to announce that our free Worldwide Video Event for April is Hearing God Through Your Dreams! You are welcome to access all 10 teaching sessions plus six interactive interpretations at no cost for a limited time starting next week. We invite you to find out more and register online.
And if you just can't wait, pick up your own copy of the book or training series (on sale!) today.
Last but not least, I wanted to let you know about my latest podcast interview on De-Mystifying Dreams and Interpretation. The hosts shared thoughtful questions and we had a lot of fun diving deep into all things dreams. Enjoy!
Add new comment